Pharmaceutical Sparkler Filter Machine - Enviro Tech Industrial Products Delhi India
Filter Pad
With the valuable assistance of skilled team of professionals, we are offering an extensive range of high quality Filter Pad. These products are made to meet the standard porosity and high retention capacity parameters. Our products are widely acknowledged in drug & pharmaceutical, beverage and distilleries industries. This is manufactured under the guidance of our qualified professionals using high grade raw material and modernizes machinery in accordance with set industry standards.
Features:
Low compressibility
High dust holding capacity
High separation efficiency
Applications:
Chemicals industries

Pharmaceuticals industries

Food & beverages industries

Dairy & dairy products

Pesticides industries

Agro chemicals industries

Steel & alloy industries.

Other Information
Pay Mode Terms: T/T (Bank Transfer)
Sparkler Filter
We manufacture all kind of sparkler filter pads in woven and non-woven fabrics like Polyester, Polypropylene, Cotton, Nylon for all sizes of sparkler filter press. These are manufactured using quality material and are widely used in pharmaceutical industry and chemical industry. Our range is designed as per the industrial standards and is checked at regular intervals for its quality and durability Available in standard specifications, our range can also be custom designed as per the requirements of our clients.

Other Information
Pay Mode Terms: T/T (Bank Transfer)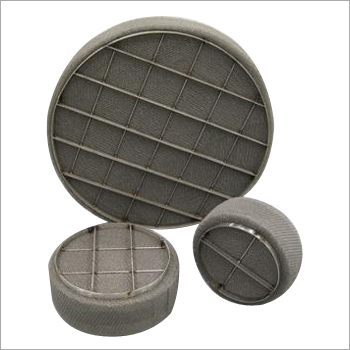 Demister Pads
We are indulged in manufacturing and exporting a wide range ofDemister Pads to our respected clients. Our ranges of products are well known for its attributes like better functioning, superior quality and easy to use. These are extensively used in various applications and in various sizes, models as per the clients' requirements. We contrived using top quality materials and advanced technology by industry experts.

Attributes
Better functioning

Superior quality

Easy to use

Affordable

Applications
Petroleum industry

Chemicals industry

Metallurgy industry

Pharmaceuticals industry

Automobile industry

Materials of Construction
GI

Monel

Polypropylene

HDPE

Nylon

Stainless Steel

Size
Other Information
Pay Mode Terms: T/T (Bank Transfer)
Filter Disc
Feature:-
Materials: stainless steel wire, such as SUS 201 202 302 304 304HC 304L 309S 310S 316 316L 321 430
Weaving: plain weaving,twill weaving, dutch weaving and so on.
Characteristics:-

High stability
Rigidity
Corrosion and thermal resistance
Resistance to moisture and abrasion
Optimum flow rates
Narrow pore size distribution
Precise alignment of filter pores
Easy to clean
Chemical and thermal resistance
Smooth surface structure
High levels of reliability
Applications-

Pressure filters for fine filtration in hydraulic steering equipment;
Oil and fuel filters pressure and vacuum filters (disc, cell and drum filters)
As porous media for fluidised beds
Protection of steering and fuel injection nozzles
Air and space travel
Automotive industry
Petrochemicals
Chemical and pharmaceutical industry
Medical science
Food and beverage industry
Plastics industry
Environmental technology

Other Information
Pay Mode Terms: T/T (Bank Transfer)
Filter Paper
We manufacture and export circle filter paper that are 100% cellulose in composition and are very safe to use in _Wine industry. These are non reactive to chemicals or organic compounds and has very low ash content (approx 0.01%). Having excellent porosity of 5 micron, our filter paper removes suspended particles in the _Wine to give it a Sparkle.
Foam Filters
We supply a variety of foam filters. Made with expertise and precision, these filters look after purification of all kinds of liquid metals. The capacity to work in a running system, makes it eligible to clean all kinds of metal and eliminate chances of rejection due to contaminants. Uncanny ability to customize on our part, makes it possible to offer silicon carbide foam filters. Silicon is induced into organic foam immersed in resin containing cross-linking agent.
Foam filters can thus be utilized in:
Running system cleaning
Purifying all kinds of liquid metals
Clearing grey iron, SG iron and non-ferrous metals
Basically in all kinds of metallurgical processes

Other Information
Pay Mode Terms: T/T (Bank Transfer)
Air Filter Pad
Our organization manufacturer and export a wide range of Air Filter Pads, which is available in types and sizes. These are used to absorb pollution in chemical, pharmaceutical and food industries, where clean air is needed. The welded type Filter Pad can control the side leaking of the conventional filter bags. Our range is available in special sizes and in mesh & nylon material as per the application requirements of our clients.
Specifications:
Type one

Synthetic monofilament mesh filter bag Bags are made of polyamide or polyester mesh

Sewn type and welded type Stainless

Ring and sentinel ring

Size can be optional

Type two

Micron grade needle punched felt filter bag B

Bags are made of polyester or polypropylene micron grade needle punched felt

Sewn type and welded type

Sentinel ring

Other Information
Pay Mode Terms: T/T (Bank Transfer)
Cellulose Filter Pads
We manufacture Cellulose Filter Pads that are used in various industries viz. Drugs and pharmaceuticals, foods and beverages etc.

Other Information
Pay Mode Terms: T/T (Bank Transfer)